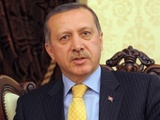 Turkey plans to build two new cities near Istanbul, one on the European side and the other on Anatolian side, Prime Minister Recep Tayyip Erdogan announced on Wednesday , Anadolu Agency reported.
Erdogan said that the new city on European side of Istanbul would be built on an area of closed mines on Black Sea coast.
A land of 40,000 hectares of abandoned mines will flourish thanks to this new city, Erdogan said.
Erdogan announced his new project two weeks after he unveiled his "crazy project" Canal Istanbul, a new waterway for Istanbul, to link the Black Sea to the Marmara Sea which aims at reducing maritime traffic on Istanbul Strait, or Bosphorus.
Erdogan assured that these two cities would be constructed in compliance with the spirit of Istanbul.
He also said that the new city on European side would be home to one of world's largest airports with a capacity to host 60 million passengers a year.
The new city will be designed as a commercial hub with ports, marinas, and new sports complexes.
Construction works for these two new cities will begin one year after the parliamentary elections scheduled for June 12, Erdogan said.
"At the same time, we will complete studies for the third bridge on Istanbul Strait during this period of time," he added.
/
Trend
/