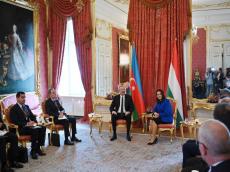 President of Azerbaijan Ilham Aliyev has met with President of Hungary Katalin Novak in an expanded format.
Addressing the meeting, President of Hungary Katalin Novák said:
- Once more, welcome. Sorry to the delegation members that it could much longer than expected. But we had so many things to discuss, it could have lasted longer. But hopefully, next time we can continue also on a more informal way - tet-a-tet.
So, thank you for coming. It is an honor for us to have you on an official visit in Hungary. I know that you already had a very good program yesterday. I hope for a good continuation, which will be with Prime Minister, who is the Executive. I am just a representative - the head of the state.
Just as I already mentioned, you have met the delegation members at the Kossuth Square at your reception. But you didn't meet our new energy minister, which is one of the most important topics we have – the energy cooperation between our two countries.
Well, we are not in such a lucky situation that you are unfortunately. We were deprived from our natural energy resources more than 100 years old. So, we don't have it anymore. And we meet good friends and partners so that we can now diversify our energy resources, because you know that for the present we are dependent from the Russian oil and gas. And that was also one of our major issues that we discussed the actual situation of the war and our expectations. So once again, Mr. President thank you for coming.
***
President Ilham Aliyev said:
- Thank you Madamme President. Thank you for your invitation. It is a big honor to visit your beautiful country on an official visit. Using this opportunity, I would like to invite you to visit Azerbaijan on an official visit at any time convenient for you to continue our dialogue.
I am glad to be in Hungary again. As you mentioned, yesterday with Prime Minister, we had a very informal and friendly, but at the same time very very full of discussions meeting, and today we will continue.
And all the members of delegation have my instructions to be permanently in touch with their colleagues in order to address important issues of bilateral agenda. Of course, energy is on top of our agenda. And today we will sign an important MoU, which, I think, is a very important step, because this is the first document which will be signed in order to start operation in the area of gas supply.