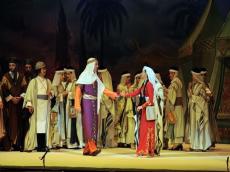 By laman Ismayilova
Azerbaijan's opera art has a long history of development. The foundation of Azerbaijani opera art was laid on January 12, 1908, by outstanding composer Uzeyir Hajibayli, whose opera "Leyli and Majnun", became the first not only in Azerbaijan but also in the entire Orient.
Some 115 years have passed since the premiere of Uzeyir Hajibayli's masterpiece.
His opera laid the foundation of a new genre in musical culture, which synthesizes oriental and European music styles.
"Leyli and Majnun" - a classic Azerbaijani tale of young lovers and meddling parents is compared to "Romeo and Juliet". Together with his younger brother Jeyhun, Uzeyir Hajibayli wrote the libretto for the iconic opera.
Premiered in 1908 at the Tagiyev Theater, the opera is based on the story taken from Fuzuli's poem written in the XVI century.
The opera's first director was Huseyn Arablinski and its first conductor was Abdurahimbay Hagverdiyev, a famous Azerbaijani writer. At that time, women were not allowed to perform on stage. So, all the parts were played by men.
Changes have been made to the opera in its 95 years of performance.
The first version of the opera consisted of five acts and six scenes, while the more recent version has three acts and six scenes.
"Leyli and Majnun" is an outstanding example of Uzeyir Hajibayli's works, which gained popularity with time to become his most cherished masterpieces.
The opera has been staged over 2,000 times at the Azerbaijan State Academic Opera and Ballet Theater as well as in other countries such as Russia, Ukraine, Iran, Turkey, Georgia, Uzbekistan, and Turkmenistan.
The program from the opera's premiere and a photograph of Huseyngulu Sarabsky, who acted Majnun first, are stored in the fund of the National History Museum, attracting the attention of curious visitors.