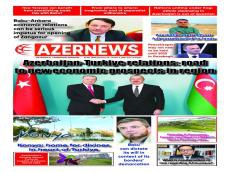 A new print edition of the AZERNEWS online newspaper was released on September 29.
The new edition includes several interesting articles, such as "Azerbaijan-Turkiye relations: road to new economic prospects in region"; "Azerbaijan gets almost full possession of its lands "; "Baku-Ankara economic relations can be serious impetus for opening of Zangazur "; "Khinalig & Hyrcanian Forests inscribed in UNESCO World Heritage Sites " etc.
AZERNEWS is an associate member of the World Association of Newspapers and News Publishers (WAN-IFRA).
The online newspaper is available at www.azernews.az.