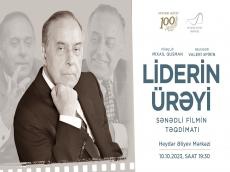 On October 10, the Heydar Aliyev Center will host the presentation of the documentary film "Leader's Heart," Azernews reports.
The film written by the first deputy general director of TASS information agency, Honored journalist of the Russian Federation, Mikhail Gusman, is dedicated to the 100th anniversary of National Leader Heydar Aliyev.
The film covers the period when the National Leader Heydar Aliyev returned to political power in Azerbaijan at the insistence of the people and led the country. In the screenplay, it is emphasized that such a return happened for the first time in the history of the world.
The choice of October 10 for the presentation of the film is not accidental. Thus, October 10 is the day when National Leader Heydar Aliyev was sworn in after being elected President for the first time in 1993.
Heydar Aliyev played an important role in the history of the Azerbaijani people and left an indelible mark on world politics. The documentary film "Heart of a Leader" also includes Mikhail Gusman's conversations about Heydar Aliyev with Bill Clinton, George Bush, Jacques Chirac, Madeleine Albright, Tony Blair, Zbigniew Brzezinski and other world politicians.
It was during Heydar Aliyev's time that official Baku strengthened its position in the international arena, increased the number of its strategic partners, and Azerbaijan's diplomacy in organizations such as the OSCE and the UN became intensive. Far-seeing politician Heydar Aliyev managed to direct large-scale investments of foreign companies to Azerbaijan and to sign the "Contract of the Century".
In the film, it is possible to listen to Heydar Aliyev's exclusive interviews with Mikhail Gusman, his valuable opinions, and see rare archival footage related to his political activities.
Filming took place in Moscow, Baku and Nakhchivan, the birthplace of the National Leader.
The director of the documentary "Heart of a Leader" is Valery Spirin, the screenwriter is Marina Denisevich. The People's Artist of Azerbaijan, Polad Bulbuloglu, composed a song for the film based on the poems of poet Yuri Ryashentsev.
The film was made in Azerbaijani and Russian languages.