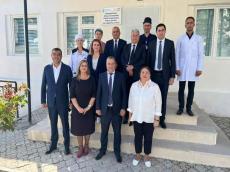 By Trend
Azerbaijani Management Union of Medical Territorial Units (TABIB) is implementing urgent measures to organize medical service in the liberated territories of Azerbaijan by instructions of President Ilham Aliyev, Trend reports via TABIB.
As a part of this work, the Family Health Center has begun to function in Hadrut settlement.
The Family Health Center has been established following the order of Executive Director of TABIB Vugar Gurbanov as a structural subdivision of Beylagan Central District Hospital subordinated to TABIB. The Family Health Center has six rooms. Th staff of 12 people will work here, including an ambulance team, a doctor, and paramedics seconded from Beylagan Central District Hospital.
After completing the overhaul of the building, the Center has been commissioned and is designed to serve 6,000 citizens. It's has all the necessary medical equipment and facilities.
The opening ceremony was attended by Head of Coordination Department of TABIB Mubariz Aghayev, Special Representative of the President of the Republic of Azerbaijan in Khojavand district Ali Zeynalov, heads of law enforcement bodies, directors of Beylagan and Khojavand Central Hospitals and medical workers of the Family Health Center.
Earlier medical care in Hadrut was provided by visiting teams of Beylagan and Khojavand Central Hospitals.
Family Health Center in Hadrut, which provides primary health care to citizens working in public institutions, repair and construction companies in Hadrut settlement, and in some cases to military personnel serving here and their families, is the second primary health care institution after the Family Health Center in Aghali village that began its activities in the liberated territories.