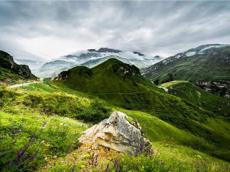 By AzerNews
Azerbaijan entered Top 3 section of the National Geographic Travel Awards.
National Geographic Traveler Awards is conducted by the National Geographic Traveler journal annually.
Azerbaijan is among the main nominations of the category "Discovery of the Year" this year.
The Land of Fire will strive for victory along with Iceland, Krasnaya Polyana in Russia, Crimea, and South Korea.
The CIS countries are well represented in three out of the thirteen regional award nominations this year.
The users of journal's website are to choose the best travel directions and services in 18 categories from June 25 to September 30.
Azerbaijan with its ancient history and natural beauties definitely deserves to win the award.
At present, Belarus outruns all in the category "Back to the USSR" while Kyrgyzstan is leading in category "Health Recreation" award with its lake Issyk-Kul, trekking in high mountains, swimming in the radon sources, and Kymyz treatment for tourists.
In category "Russian tourism" the Altai Mountains leaves behind the Irkutsk region.
Among the foreign countries in the category "The best beach vacation" Greece which leaves behind Spain and Cuba outstrips Fiji in category "Exotic Vacation"
Another five award nominations of National Geographic Traveler Awards 2014 design for a variety of tourist services.
The National Geographic magazine is an official magazine of the National Geographic Society functioning since 1888, inspiring people to care about the planet. The magazine shares articles about geography, history, and world culture.
Earlier it was reported, that the National Geographic will be published in Azerbaijani by Azerbaijan's Garant Holding from September 2014.
National Geographic Azerbaijan will become the 40th local-language edition of National Geographic magazine, in addition to the English-language edition. The new edition will publish content from the English-language edition and introduce local content of interest to the Azerbaijani readers.