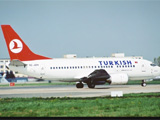 Turkey's national air carrier Turkish Airlines (THY) has achieved a 27 percent increase in turnover and raised its revenues to 2.1 million Turkish liras in the first three months of 2011. (One USD equals to 1.582 TL)
Releasing a written statement on Thursday, THY said its number of passengers had increased by 9 percent and reached 6.7 million in Q1 2011, compared to the same period of 2010.
THY said its "business class" passengers had also grown 19 percent.
The statement noted that THY, which had carried 5.4 million passengers in 2003, aimed at increasing the number of its customers to 32.5 million in 2011.
"THY will keep growing in line with its goal to become one of the leading airline companies in the world and will continue to take secure steps towards turning Istanbul into a center of aviation," the statement added.
Based in Istanbul, THY is one of the fastest growing airline companies in the world.
It was founded in 1933, with a fleet of five airplanes that carried a total of 28 passengers. THY conducted its first domestic flight the same year and the first international flight in 1947.
With direct flights to 137 international and 41 domestic destinations as of March 2011, THY is a Star Alliance member and carries approximately 25 million passengers a year.
The company posted 286 million Turkish lira net profit in 2010.
/World Bulletin/