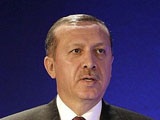 Facebook is "ugly technology," the Turkish prime minister claimed, arguing any sort of immorality could be posted on the global social networking site for everyone to see.
"Facebook is ugly technology. Pages in Facebook are ugly and awful," Recep Tayyip Erdoğan said Thursday at his party's election rally in Balıkesir, on the Aegean cost. Despite his criticisms against Facebook, Erdoğan has a page on the site, which was "liked" by more than 777,000 people.
Erdoğan's statement about Facebook came when he was slamming Kemal Kılıçdaroğlu, leader of the Republican People's Party, or CHP, who accused one of his ministers of sending an e-mail to a senior bureaucrat for a personal demand.
"What is it about sending an e-mail? One could send an e-mail on behalf of you Kılıçdaroğlu," Erdoğan said. Recalling State Minister Hayati Yazıcı said the e-mail was a fake and sent to the bureaucrat by unanimous persons, Erdoğan also slammed the media over its large coverage of Kılıçdaroğlu's claims.
For Erdoğan, there is a systematic smear campaign by the coalition of oppositional parties especially on a scandal erupted around the university replacement exam. "Among the campaigners are the media as well. They are pumping up the campaign with their columns, TV programs everyday," he said, "The purpose is to blur the minds and garner votes."
As the court did not cancel the exam, Erdoğan said, he was expecting the members of these campaigners to feel ashamed but no one is blushing. "What is it with this talent of lying? If you want to see a walking lie, just look at Kılıçdaroğlu."
/Hurriyet Daily News/