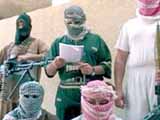 Iranian security forces have killed a member of the Pakistan-based Jundullah terrorist group in the southeastern province of Sistan-Baluchestan, Press TV reported with reference to IRIB.
The militant, identified as Rahmak Sohrabzehi, was killed in a well-planned police ambush in the provincial capital Zahedan, located 1,120 kilometers (696 miles) southeast of the Iranian capital Tehran, on Tuesday evening.
Jundallah terrorists have carried out numerous deadly bombings and assassination attempts in Iran, including several attacks in Iran's Sistan-Baluchestan Province, which borders Afghanistan and Pakistan.
On December 15, 2010, a terrorist attack in the southeastern Iranian city of Chabahar killed at least 38 people and wounded more than 90 others, including women and children.
The terrorist Jundullah group later claimed responsibility for the deadly bomb attack.
Jundallah leader Abdolmalek Rigi was arrested by Iranian intelligence forces in February 2010 and executed in June for 79 counts of crimes, including armed robbery, bombing operations and armed attacks on police and civilians.
Rigi stated in his confessions that he had dealings with the US government and was promised unlimited funds and resources for "waging an insurgency" in Iran.
The remnants of Jundullah terrorist group are holed up in Pakistan from where they sneak into Iran to carry out bombings and other acts of terrorism.
/
Trend
/