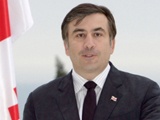 Opposition forces of Georgia intend to reach their aim - early resignation of President Mikheil Saakashvili and new elections, said Gubaz Sanikidze, one of the National Forum party leaders.
Sanikidze is sure that "agreement between political and public forces of Georgia to reach Saakashvili's resignation and conduct new, democratic elections will be reached."
He noted that none of the opposition members must cooperate with the present-day government of Georgia.
"Mass peaceful actions will make Saakashvili resign, and if he doesn't do it, then the people will have to remove him in any other ways," Sanikidze said.
/Georgia Times/