French Foreign Minister Bernard Kouchner says Paris and Washington have worked out a common position on sanctions against Iran.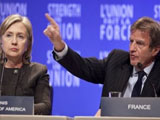 "We have reached a very clear agreement on further actions. We will act in two directions: Constant dialogue and work on sanctions," Kouchner said Friday, after meeting with US Secretary of State Hillary Clinton in Paris.
The US and France intend to submit their proposal in preparation for a possible United Nations Security Council (UNSC) vote within weeks.
Earlier this week, the US secretary of state held talks with her counterparts from Russia and China in London, to win the support of the two veto-wielding permanent members of the UNSC for more sanctions against Iran.
Blatantly, Clinton assailed China for not joining the US-led front in dealing with Iran's nuclear energy program, issuing warnings that China will be come "a lot of pressure" to accompany the US campaign.
Britain, China, France, Germany, Russia and the United States are currently discussing the transition from talks to new sanctions against Iran.
It is speculated that the new round of sanctions would target the country's oil industry and would envisage a freeze on the assets of some Iranians, including officials with Iran's Revolutionary Guard Corps.
However, Iran's Foreign Ministry Spokesman Ramin Mehman-Parast said on Friday that the US will not be able to achieve its goals by imposing sanctions.
"We have repeatedly said that the US sanctions imposed against our nation during the past 31 years…have resulted in nothing but our nations' stronger determination to assert independence and achieve self-reliance," he was quoted by IRNA as saying.
/Press TV/