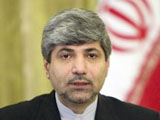 Tehran Friday rejected a bill passed by the US Senate that would restrict Iran's import of refined petroleum products as a continuation of a "wrong policy," saying the sanction would not affect the country.
Foreign Ministry spokesman Ramin Mehman-Parast told the Islamic Republic News Agency (IRNA) that the US will not achieve its goals by imposing sanctions.
"We have repeatedly said that the US sanctions imposed against our nation during the past 31 years … have resulted in nothing but our nations' stronger determination to assert independence and achieve self-reliance," he said.
The US Senate on Thursday approved a bill that would allow President Barack Obama to impose new sanctions on Iran over its nuclear program.
The measure will now move to a conference committee to iron out differences with an already-passed House version, Politico reported.
President Obama will have the power to deny loans and other assistance to US firms that export gasoline to Iran or help expand its oil-refining capacity.
The new legislation will also impose a broad ban on direct imports from Iran to the United States and vice versa, with the exception of food and medicine.
It will also require the Obama administration to freeze the assets of some Iranian officials, including those with Iran's Islamic Revolution Guard Corps (IRGC).
Mehman-Parast said the move would not compel Iran to give up its "legal rights" to the civilian applications of the nuclear technology.
/Press TV/