Today, the Armenian government announced that it will begin a program of securing affordable housing for young families.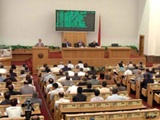 According to Minister of Finance Tigran Davtyan, 3 billion AMD is been allocated for the first stage of the program.
Funds will be distributed through banks, through the mortgage loans, which the government will, to a certain extent, subsidize.
According to Davtyan, the mortgage loans will be given to first-time home-owners at 8.9 to 9 percent for a 10-year term.
Young families will require to make a down-payment of at least 30 percent of the loan.
Armenian Prime Minister Tigran Sargsyan called this a very important decision since it will allow thousands of new families to secure their own homes.
According to his calculations, families will be paying 130,000 AMD per month in mortgage payments — this, in a country where the average salary (assuming one lives in the capital city) is less than 100,000 AMD a month.
/Tert.am/