Georgian President Saakashvili offered the U.S. to use territory of Georgia for transportation of armaments and supplies to Afghanistan.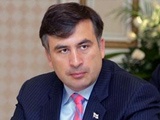 Saakashvili is quoted in an interview with AP as outlining a proposal to develop a corridor for the shipment of armaments across Georgia and Central Asia to Afghanistan.
U.S. Defense Department is aware of Saakashvili's willingness, but his proposal hasn't been considered in detail.
The Georgian leader is sure that implementation of his ideas wouldn't irk Moscow, since Russia is also interested in success of anti-terrorist operation in Afghanistan.
/Georgia Times/