A decision by the Iranian government to place a temporary ban on the Umrah pilgrimage to Mecca sets alarm bells ringing in Saudi Arabia with some officials in the Kingdom warning of "heavy losses."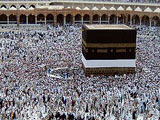 Iran's Sazman-e-Haj (Haj and Pilgrimage Organization) announced on January 16 that the participation of Iranians in the Umrah (minor hajj pilgrimage) ceremonies in Saudi Arabia will be temporarily suspended in the coming year.
The decision came after Saudi officials failed to provide an explanation for the mistreatment of Iranian pilgrims during the last season of Hajj in the Arab kingdom.
"The shocking behavior of Saudi policemen with Iranians during their pilgrimage to the holy cities of Mecca and Medina is cause for serious concern," Ali Layali, the head of Iran's Haj and Pilgrimage Organization, told Fars News Agency on January 17.
Layali said the ban on pilgrimage will be in place until the issue is resolved in negotiations with Saudi officials.
The temporary suspension of the Umrah pilgrimage has raised serious concerns among various service providers in Saudi Arabia.
Taha Marikar, the Director of Sales and Marketing for the Al-Hussam service provider, told Zawya on Friday that hotels and transport companies in Mecca and Medina will face millions of riyals in losses if Iranians fail to show up.
Iranians account for almost a quarter of the total 3.7 million people, who annually visit Saudi Arabia for the Umrah pilgrimage.
Fayyaz Siddiqi, chief operating officer of Hajeej Travel, noted that Umrah service providers earn an average of SR750 ($200) from providing pilgrims with visa services, accommodation and transportation after arrival.
Siddiqi added that if Iranians steer clear of the Umrah pilgrimage in Saudi Arabia this season, hotels and related businesses in Mecca and Medina could easily suffer a loss of up to SR700 million.
He noted that the absence of Iranian pilgrims this year would significantly lower the price for accommodation in Makkah and Madinah.
Siddiqi added that while pilgrims from other countries can fill the gap to some extent, they will not be nearly enough to offset the losses the Umrah industry is likely to face.
/Press TV/