The ninth round of the internationally mediated peace talks on Caucasus ended without results in Geneva on Jan. 28.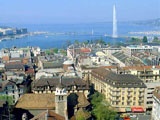 The only issue on which the sides managed to agree is the date of the next round of negotiations, which will be held on March 30.
During eight hours, the participants of the talks were discussing the most topical issues in Georgia's occupied regions.
The document on security measures in the conflict areas prepared by the European co-chairmen of the negotiations turned out acceptable for Georgian side; however, the Russian delegation demanded time for discussing its details until the next round of talks.
Georgian authorities say despite the failure of the sides to agree on vital issues, the talks in the Geneva format should continue.
/Georgian Times/