Georgian Parliament Chairman Davit Bakradze will hold meetings in Luxemburg on Jan. 29.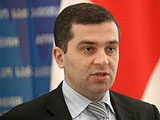 According to him, support of each EU country is very important for Georgia.
Bakradze will meet Parliament Chairman of Luxemburg today and deliver a speech at the Parliamentary Committee for Foreign Affairs.
He met with the newly elected President of the European Council of EU, Herman Van Rompuy and Chairman of the Senate of Belgium, Arman De Deker yesterday.
The Parliament Chairman also held meetings with NATO Secretary General Anders Fogh Rasmussen, President of European Parliament Jerzy Buzek and chairman of the Lower Chamber of the Parliament of Belgium Patrick Dewael.
/Georgian Times/