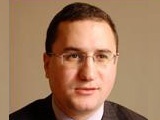 The Foreign Ministers of Turkey and Armenia held a meeting at an international conference in London on Jan. 28, Armenian Foreign Ministry Spokesperson Tigran Balayan said.
The informal meeting marked the first face-to-face talk since the Armenian Constitutional Court delivered a ruling on the protocols that seek to normalize diplomatic relations between Armenia and Turkey.
As reported by Hurriyet Daily News, Ahmet Davutoglu and Edward Nalbandian agreed to meet on the sidelines of a security conference next week in Munich, Germany, for more bilateral talks.
/News.am/