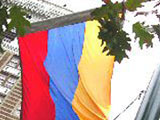 A poll conducted by the Armenian office of the People in Need organization, (Czech Republic), in cooperation with the U.N. office in Armenia, showed that 70 percent of Armenian young people are ready to leave the country and settle down abroad, and only 18 percent consider it wrong.
Ninety-six senior school students aged 14-16, 41 boys and 59 girls, were involved in the poll.
Nearly 88 percent of the respondents want to leave Armenia, and only 6 percent prefer staying in the country.
About 58 percent of the respondents prefer European countries: 29.3 percent of them want to receive education there, 46.6 percent prefer traveling or going on holiday and 12.5 percent prefer working abroad.
/News.am/