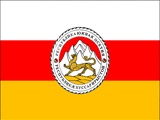 Geneva Talks on stability and security in Caucasus are getting into a deadlock, said Boris Chochiyev, South Ossetian President's Plenipotentiary for post-conflict settlement, head of South Ossetian delegation.
He said he cannot rule out that the 10th round could be the last.
"Geneva talks are getting into a deadlock, because the only issue being discussed in accordance with Medvedev-Sarkozy plan - the issue of necessity to sign a non-aggression agreement between Georgia on one side and Abkhazia and South Ossetia on the other, - isn't supported by the Georgian side. This meeting can turn out to be the last in the framework of Geneva Talks. And it's not the meaning of South Ossetia alone," Chochiyev said.
Another, the 10th round of Geneva Talks on security and stability in Caucasus began on Jan. 28.
They will be traditionally organized in format of two working groups - on security issues and on humanitarian problems, including refugees and IDPs.
Russian delegation will raise an issue of restoration of military potential of Georgia.
The Russian delegation is headed by deputy Foreign Minister Grigoriy Karasin.
/Georgia Times/