Russia's state-run arms exporter said on Thursday that "nothing" would stop the country from selling military equipment to Iran.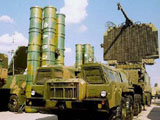 "Nothing prevents the continuation of military cooperation in those directions of interest to Russia and Iran," Anatoly Isaikin, the head of Rosoboronexport, said on Thursday.
"Iran has never violated a single commitment it has undertaken with regards to military contracts," he said.
Isaikin also stressed that Russia would not back down on a deal to sell the sophisticated S-300 anti-aircraft missile system to Iran.
Tehran has been seeking to purchase the sophisticated defense system to improve its deterrence power in reaction to Israeli war rhetoric against Iran's nuclear facilities.
According to Western experts, the S-300 missile defense system would shield Iranian nuclear sites against any Israeli airstrike.
The S-300 system, which can track targets and fire at aircraft 120 km (75 miles) away, features high jamming immunity and is able to simultaneously engage up to 100 targets.
According to a deal signed between the two sides, Russia is obliged to supply the missile system to Iran. It has not been reported when the contract would be implemented; however, an Iranian official said last year that the deadline for the system's delivery had passed.
"The delivery deadline has already passed, but the Russian side has cited technical problems which it said it was working on to fix," Tehran's envoy to Moscow Mohammad-Reza Sajjadi said in late November.
The official, however, added "we feel that this question will be resolved within one to two months."
/Press TV/