Iran's Foreign Minister Manouchehr Mottaki met with French President Nicolas Sarkozy's adviser at the World Economic Forum in Davos on Thursday.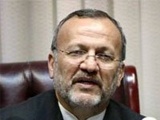 Whilst there, the Iranian minister is also expected to hold talks with former United Nations Secretary General Kofi Annan and Brazilian Foreign Minister Celso Amorim.
Iran's Foreign Ministry Spokesman Ramin Mehman-Parast had said on Wednesday that Mottaki will state the country's initiatives for solving the global economic crisis during the Annual Meeting of the World Economic Forum that will run from January 27 through January 31.
"The Islamic Republic of Iran will state its viewpoints to help find the roots of the crisis and the ways to solve it," Mehman-Parast had said.
/Press TV/