Iran's Foreign Minister Manouchehr Mottaki says the Islamic Republic has conducted transactions worth USD 200 million with Armenia in 2009.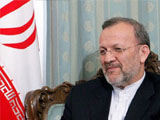 "Iran has carried out transactions worth 200 million dollars with Armenia in 2009," Mottaki said at the Joint Commission of Iran and Armenia on Wednesday.
"The trade volume between the two countries has decreased in comparison to last year's figures," he added.
Mottaki further noted that officials from both countries have taken appropriate measures to improve bilateral relations.
The Iranian minister, heading a high-ranking political and economic delegation, arrived in the Armenian capital of Yerevan on Tuesday.
He was formally received upon his arrival by his Armenian counterpart Edward Nalbandian.
Mottaki also held talks with top Armenian officials on the expansion of bilateral relation as well as regional and international developments.
/Press TV/