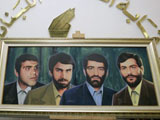 The Iranian Foreign Minister, Manouchehr Mottaki, has criticized the international organizations, including the United Nations, for their inaction to determine the fate of four kidnapped Iranian diplomats in Lebanon.
"Unfortunately, due to the reluctance of the international organizations and related sides, particularly the Zionist regime, our all efforts and actions regarding the issue remain unclear," Mottaki was quoted as saying.
During the invasion of Lebanon on July 4, 1982, four Iranian diplomats were kidnapped by militiamen and Israeli forces at an inspection point in northern Lebanon.
Israel claims that Ahmad Motevaselian, Seyed Mohsen Mousavi, Taghi Rastegar Moghadam and Kazem Akhavan were abducted by the Lebanese Forces group, now headed by Samir Geagea, and were killed shortly after their abduction.
Mottaki said, however, that Israel should be held accountable for the safety and lives of the four kidnapped diplomats and called on UN Secretary-General Ban Ki-moon to take measures based on their legal duties.
The Leader of the Lebanese Hezbollah Seyyed Hassan Nasrallah had earlier said that the kidnapped diplomats were still alive and languishing in Israeli prisons.
/Press TV/