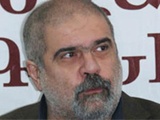 No matter how the Armenian-Turkish relations develop, the issue of the Russian military base in Armenia will not be considered, Alexander Iskandaryan, Director of the Institute of Caucasus, stated during a Yerevan-Moscow space bridge.
He pointed out that the Russian military base in Gyumri will not be dismantled though its presence is not so topical after the bases in Akhalkalak and Batum were wound up and the five-day war took place.
"I do not know what will happen in 50 or 100 years, but I cannot imagine that the Armenian-Turkish relations will change so much that Armenia will demand the Russian military base to be withdrawn," Iskandaryan said.
He pointed out that the situation will not change radically if Russia "continues showing will."
Iskandaryan also said that the military base is playing a symbolic role for Armenian-Turkish relations – it is part of these relations.
He reminded the participants that Armenia is a member of the Collective Security Treaty Organization (CSTO), Armenian servicemen maintain permanent contacts with Russian servicemen, and the Armenian frontier troops are closely cooperating with Russian troops.
/News.am/