Russian President Dmitry Medvedev and Armenian President Serzh Sargsyan held talks in Moscow on Jan. 18.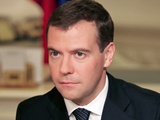 The talks focused on prospects of bilateral relations and Nagorno-Karabakh peace process.
The Russian President stated that the sides were first to discuss the current agenda – "both economic ties and our foreign policy contacts."
"We are going to talks about global problems, about the serious projects we are dealing with. Of course, we are going to talk about the Nagorno-Karabakh peace process, about what we are doing this year, because this year we must do much good for our relations and for our peoples," Medvedev said.
The Russian leader also expressed hope that the crisis will end and "the instruments of both economic, and politico-military cooperation we agreed on will become operative."
In his turn, Armenian President Sargsyan pointed out that it is his first international visit this year.
According to him, it is the right time now, "and we can sum up our work aimed at strengthening Russian-Armenian relations in 2009 and outline the plans for 2010."
"I think that preconditions for even greater progress in 2010 are available. I think we must do our best for our relations to see serious progress every year," the Armenian leader said.
President Sargsyan expressed his special thanks to the Russian leader for Russian assistance in consolidating regional peace and stability.
"We are interested in settling all the problems in a peaceful way. And we are not only strategic allies, but also think similarly about it," President Sargsyan said.
The Russian leader shared his Armenian counterpart's opinion, pointing out that bilateral political contacts are actively developing.
/News.am/