German jazz drummer Wolfgang Haffner and his band are slated to perform at Honar Cultural Center in the Iranian capital of Tehran.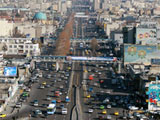 Sponsored by the German Embassy in Tehran, the concert will present pieces composed by renowned American composer Duke Ellington on March 11 and 12, 2010.
A prominent composer and pianist Ellington (1899-1974) was one of the most influential figures in the history of jazz, who also explored blues, gospel, pop and classical genres.
The Wolfgang Haffner band will continue its concert tour in Pakistan and India. Haffner formed his band in 2002 and has so far recorded 11 titles.
/Press TV/