Iranian and Iraqi border officials met on Monday to discuss and resolve "misunderstandings" over their joint border, Press TV reported.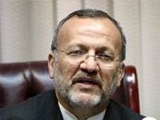 Officers from eleven border zones of the two countries met in the Iranian city of Qasr-e Shirin, where Iran expressed its desire to erect signs at the border.
In early January, Iranian Foreign Minister Manouchehr Mottaki said Tehran and Baghdad had begun talks after an incident over an oil field near the border.
The Monday meeting also paved the ground for the formation of a joint committee to discuss the matter of the oil well, Fakkah.
Brigadier General Hossein Zolfaqari, who headed the Iranian delegation, said it was important to have close cooperation with the Iraqi side.
/Press TV/