Erdogan said that energy should be means of cooperation rather than a matter of competition.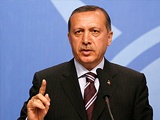 Turkish Prime Minister Recep Tayyip Erdogan said that energy should be means of cooperation rather than a matter of competition.
Speaking at the Third World Future Energy Summit in Abu Dhabi, the United Arab Emirates, Erdogan said, "the issue of energy has gained further importance in our age because of increasing world population and growing global economy. Global issues requires global efforts for solution. We have to meet requirements of our people. But we are, at the same time, obliged to leave a habitable world to the next generations."
Prime Minister Erdogan highlighted importance of renewable energy, "Turkey has a considerable potential of renewable energy such as wind, geothermal, hydroelectricity and solar energy. Current share of renewable resources in Turkey's total electricity production is 20 percent. We aim at increasing this share to 30 percent by the year of 2023."
Referring to the issue of energy safety, Prime Minister Erdogan said, "we need to diversify energy resources and transportation routes to ensure energy safety. Our country aims at contributing to energy safety in Europe while ensuring its own energy safety. We have completed important projects such as Baku-Tbilisi-Ceyhan oil pipeline, Baku-Tbilisi-Erzurum natural gas pipeline, the Blue Stream and the Nabucco. These projects will also help efforts to provide peace, stability and prosperity in the region."
The World Future Energy Summit, the world's platform for sustainable future energy solutions, brings together policymakers, industry leaders, investors, scientists, specialists and researchers to discuss the challenges of rising energy demand and actions to achieve a cleaner and more sustainable future for the world.
Meanwhile, Erdogan met with his Malaysian counterpart Mohamed Najib bin Abdul Razak on Monday.
Erdogan's meeting with Razak took place at the Emirates Hotel and was closed to the press.
Prime Minister Erdogan said after his visit to United Arab Emirates, he would also pay a visit to Saudi Arabia and meet with King Abdallah bin Abd al-Aziz Al Saud. Erdogan said they would discuss the ways to boost trade volume between Turkey and Saudi Arabia.
"Turkey keeps establishing sound relations with the east-west and north-south. We want to have reputable relations with all countries," he added.
/World Bulletin/