Turkish human rights groups issued a formal request for arrest warrant against Israeli defense minister Ehud Barak upon landing in Turkey.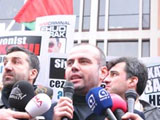 The move comes after a number of international efforts to arrest Israeli political military leaders over war crimes allegedly committed in occupied Palestinian territories.
MAZLUMDER's Istanbul Branch and Ozgur-Der gave a notice to the state prosecution in Sultanahmet Court, requesting to order Barak's arrest upon landing in the country for the war crimes in Gaza offensive.
Branch Chairman lawyer Cihat Gokdemir said in a statement sent to World Bulletin, "We calls on Turkish authorities not to allow any Israeli officials to walk freely in the country although they ordered killings of hundreds of civilians".
Israel now faces UN war crimes report that particularly details alleged war crimes during the Gaza offensive that nearly 1,500 Palestinians were killed, more than 5,000 were also wounded.
The rights group says the request is based on the right of universal jurisdiction and Article CMK98 of Turkish law.
Recently, a string of politicians and army officials put off travel plans to the U.K. because of fears of war crimes prosecution.
International human rights bodies, including a commission set up by the United Nations, have said Israeli political and military officials should answer allegations of war crimes over the three-week Gaza offensive launched in late December 2008.
Israel is also concerned the UN war crimes charges could be taken up by the International Criminal Court in the Hague.
In December, Tzipi Livni, the leader of Israel's main opposition party Kadima and foreign minister during the Gaza war a year ago, cancelled a visit to Britain after an arrest warrant was issued against her by a British court over Gaza war crimes.
In September, the court was asked to issue one for the arrest of Ehud Barak, Israel's defence minister, under the 1988 Criminal Justice Act, which gives courts in England and Wales universal jurisdiction in war crimes cases.
Barak, who was attending a meeting at the Labour party conference in Brighton, escaped arrest after the Foreign Office told the court that he was a serving minister who would be meeting his British counterparts. The court ruled he enjoyed immunity under the State Immunity Act 1978.
In 2005, a retired Israeli general, Doron Almog, avoided arrest in Britain by returning to Israel without leaving the plane that had landed him in London after he learned an arrest warrant had been issued against him.
The report, which was compiled by a panel led by Richard Goldstone, a South African judge, had already been endorsed by the UN Human Rights Council, which sponsored the fact-finding commission.
Israeli forces deliberately attacked civilians, failed to take precautions to minimize loss of civilian life and cited strong evidence Israeli forces committed "grave breaches" of the Geneva Convention, the 575-page report noted.
Mazlumder is an independent organization that was founded in 1991 by a group of 54 lawyers, businessmen, and media correspondents. It has many branches throughout Turkey.
Meanwhile, a group of Friends of Palestine Platform members staged a protest in front of the Israeli Embassy in Ankara, urging for an end to the human tragedy taking place in Gaza.
The Friends of Palestine Platform members, gathered in front of the Israeli Embassy, shouted slogans during the protest 'Gaza will be the tomb of Zionism', 'Palestine will not be left alone.'
Group members also carried a bannes saying, 'if a someone low sits on a high chair, this will not increase the value of him,' made a reference to the political crisis initiated by Israeli Deputy Foreign Minister Daniel Ayalon.
Speaking on behalf of Friends of Palestine Platform, Muhittin Ozdemir said many human rights organizations declared Israel as "war criminal" and demanded that the Turkish government reject Israeli Defence Minister Ehud Barak's visit to Turkey on Sunday.
Reminding that the attacks against Gaza still continues and vulnerable people live under the bombs, Ozdemir called for the end of Israeli attacks immediately.
/World Bulletin/