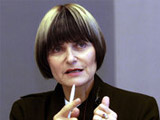 Swiss Foreign Minister Michelin Calmy-Rey will arrive in Moscow on Jan. 17 and discuss the Georgia-Russia relations with the local authorities, Russia's Deputy Foreign Minister Andrei Nesterenko announced at the briefing on Jan. 15.
He said the Swiss minister would arrive in Moscow for a brief visit and discuss the most topical issues with the Russian senior officials, including Iran nuclear program and regional conflicts, including Georgia.
Switzerland has been fulfilling diplomatic mediation between Georgian and Russia since the August war in 2008.
/Georgian Times/