An Iranian Foreign Ministry official says there is a hidden agenda behind the recent destabilizing measures on Iran's eastern borders with Pakistan and Afghanistan.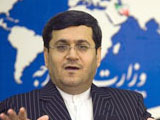 "Restoration of security to Iran's long borders with Afghanistan and Pakistan is in the best national and regional interest; however, there are some elements who spare no efforts to disturb the peace and security of these borders," Deputy Foreign Minister, Hassan Qashqavi told reporters in the southeastern city of Zahedan on Thursday.
"Actions, including hostage taking and then fleeing across the border are the clear examples of such conspiracies, because enemies do not like peace and [stability] in the region," he added.
"However,' he said, "pursuing the terrorist group's incitements beyond the borders have always been the topic of the discussions of Iranian and Pakistani high ranking officials."
Iran's Sistan-Baluchestan region borders Pakistan and Afghanistan and has regularly been the scene of clashes between security forces and armed terrorist groups believed to be based in neighboring Pakistan.
The Iranian foreign ministry official announced the Foreign Minister, Manouchehr Mottaki's upcoming visit to Islamabad, which he said, would be aimed at reviewing issues related to the borders security, particularly dealing with the terrorist groups.
"The Pakistani government is expected to live up to its promises and take more serious measures to stem the terrorist and evil activities," Qashqavi continued.
Jundullah, which operates in Iran's Sistan-Baluchistan and Pakistan's Baluchistan provinces, has carried out a number of attacks against high profile Iranian targets, especially government and security officials.
The Pakistan-based Jundallah terrorist group carried out a bomb attack in the Pishin district in October 2009 that killed over 40 people, including several high-ranking Iranian commanders. Tehran and Islamabad signed a security pact following the attack.
/Press TV/