The Iranian parliament is discussing a draft bill to sever diplomatic ties with the UK.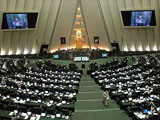 Roughly 36 MPs undersigned the bill stipulating the suspension of Tehran-London diplomatic relations.
The Parliamentary National Security and Foreign Policy Committee is considering the bill, which will be submitted to parliament for voting after its approval by the committee.
The bill reflects that the UK interfered in Iran's domestic affairs after World War II, overthrowing Prime Minister Mohammad Mosaddegh's government in 1953.
Iranian officials have repeatedly accused the UK of interfering in the country's internal affairs.
After the presidential elections June 12, 2009, Iran arrested ethnic Iranian British Embassy employees and accused them of spying and infringing domestic security. The country also accused the UK of deepening the clashes after the elections.
/Mehr/