Deputy Foreign Minister Daniel Ayalon issued a special statement of apology Tuesday night for his treatment of Turkish ambassador to Israel Ahmet Oguz Celikkol on Monday.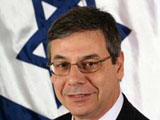 Ayalon had delivered a rebuke to Celikkol regarding an anti-Israeli television show in Turkey, Haaretz reported.
"My protest of the attacks against Israel in Turkey still stands," Ayalon said. "However, it is not my way to insult foreign ambassadors and in the future I will clarify my position by more acceptable diplomatic means."
At the beginning of the conversation with the Turkish envoy on Monday, Ayalon told cameramen in Hebrew: "Pay attention that he is sitting in a lower chair ... that there is only an Israeli flag on the table and that we are not smiling."
The Turkish ambassador and the Turkish government were furious at the humiliation of the envoy. In a sharply worded ultimatum to Israel earlier Tuesday, Ankara demanded an apology for what it described as Ayalon's demeaning treatment of its ambassador on Monday.
Also Tuesday, Turkish Foreign Minister Ahmet Davutoglu said at a press conference in London that relations between Israel and Turkey will return to normal "when Israel resumes a peaceful policy." 
/
Trend News
/