Border department of the FSS of Russia found a cache with weapons trench mortar and various ammo in South Ossetia.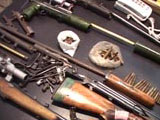 The investigation is being conducted.
The Committee for State Security of South Ossetia stated that proceeding from belonging and circumstances of finding the cache, either criminal case will be instituted or materials will be passed to due jurisdiction.
In March 2009 a cache with weapons was found in Argavitsi [South Ossetia]. It was placed in a house serving as base for Georgian subversive group.
It contained AK-74 with ammo, four anti-tank grenades [one with instruction in English], four frag grenades, three new sets of Russian uniform.
/Georgia Times/