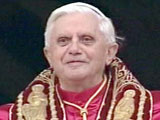 Roman Catholics have joined an array of sects seeking recognition in Turkey in order to have access to rights and protections afforded to minorities, particularly in the fields of education, charitable organizations and property ownership.
Pope Benedict XVI said last week, "The Catholic Church in Turkey is waiting for civil juridical recognition," noting that this would help the Turkish Catholic community "to enjoy full religious freedom and to make an even greater contribution to society," while receiving Kenan Gürsoy, the new ambassador of Turkey to the Holy See.
Turkish authorities say that the 1923 Treaty of Lausanne, the main agreement regulating minorities in Turkey, recognized only Jews, Armenians and Greek Orthodox communities as minorities, meaning Roman Catholics, Syriacs and Protestants were left out.
Ankara University Professor Baskın Oran, however, says that there are actually no limitations in the Treaty of Lausanne on which communities should be recognized as religious minorities.
"It considers all non-Muslim groups religious minorities. When the negotiations were going on for Lausanne, they did not discuss all these issues openly," he told Today's Zaman.
Oran added that non-recognized communities are facing many problems at different levels, including education, property rights and places of worship. The Holy See's envoy to Ankara, Apostolic Nuncio Antonio Lucibello, recalled that although diplomatic relations between the Vatican and Ankara were established 50 years ago, the Catholic community was not given an official status.
 "The Catholic community needs an official status to be able to organize its affairs, including charities," Lucibello told Today's Zaman.
The pope, in his statement, also pointed to the charities of the Catholic community and said that Catholics in Turkey appreciate freedom of worship and are also pleased to be able to contribute to the well-being of their fellow citizens, especially through involvement in charitable activities and health care.
"They are rightly proud of the assistance provided for the poor by the La Paix and Saint Georges hospitals in İstanbul. In order that these worthy endeavors may flourish, I am sure your government [the Turkish government] will continue to do what it can to see that they receive whatever support may be needed," the pope said.
Benedict recalled his visit to Turkey in 2006 and added that Turkey is a secular democratic state that straddles the boundary between Europe and Asia and can make a significant contribution to the effort to bring peace and stability to the Middle East.
"The Holy See appreciates the numerous initiatives that Turkey has already taken in this regard and is eager to support further efforts to put an end to long-standing conflicts in the region. As history has so often shown, territorial disputes and ethnic rivalries can only be satisfactorily resolved when the legitimate aspirations of each party are duly taken into account, past injustices acknowledged and, when possible, repaired," the pope said.
Some Catholic institutions, like Missio, a German Catholic organization promoting interreligious dialogue, frequently emphasize the problems caused by the non-recognition of minorities and lobby for Catholic recognition in Turkey in the European Union. The pope, during his visit to Turkey, said that he supports Turkey's EU bid, but in 2004, before Cardinal Joseph Ratzinger was elected pope, he stated that Turkey's membership in EU would be a grave mistake for both sides.
/TODAY'S ZAMAN/