Armenian Constitutional Court has ruled Armenia-Turkey Protocols constitutional.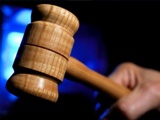 16:53
According to CC, the judgment is final and may not be appealed.
The chants "Traitors", "You are not Armenians" were heard from the court room.

---------
12:41
Armenia's Constitutional Court has launched a hearing on conformity of the Armenian-Turkish protocols with country's Constitution.
ARF Dashnaktsutun continues a rally launched on Jan. 11 outside the CC premises.
Some 100 people led by representative of the ARFD Supreme Body Armen Rustamyan are protesting approval of protocols.
The hearing will not be secret while decision will be taken by the majority of CC members behind closed doors.
Judge Vladimir Hovhannisyan will decide whether the protocols are in line with the Constitution.
Armenian Foreign Minister Edward Nalbandian will address the session as the president's representative.
/PanARMENIAN.Net, News.am/