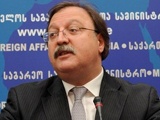 The visit of Senator John McCain has again confirmed that Georgia has the support of the entire political spectrum of the U.S., Foreign Minister of Georgia Grigol Vashadze briefed the media.
"For us, the most important is the fact that during his visit to Georgia, McCain voiced that Georgia enjoys the support of the whole political spectrum of the U.S. and the Georgian-American relations are not the desire of one president, one political party or one U.S. administration," said Vashadze.
According to the minister, this visit should be, on the one hand, a signal to those political forces in Georgia, which do not believe in it, but on the other - to Russia, which already last year had illusions that support for Georgia may be something convertible.
/
Trend News
/