Representatives of Georgian opposition, who had held meeting with John McCain, were generally content with his visit.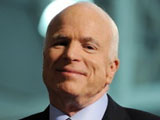 "The support the USA renders to Georgia, with consideration of unemployment and the hard conditions citizens of the country live in, under effective distribution must reflect on the life of population", believes Georgi Targamadze, leader of Chrisitian Democrats.
Levan Gachechiladze, in his turn, highlighted that McCain is one of the few politicians who Mikheil Saakashvili listens to.
"We told McCain about a hard situation in the country," Gachechiladze said.
"There must be more freedom in all directions, which in no way can be reached under the circumstances of this regime."
/Georgia Times/