Defeated presidential candidate Mehdi Karroubi said Monday that he is ready to hold a debate with any representative from the establishment if the Iranian nation can be its audience.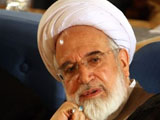 In a statement released on his party's website, Karroubi said only such a debate could determine who is right and who is wrong.
Ever since protests erupted in the country following the presidential election in June 2009, Karroubi has been accused of fomenting the unrest and cooperating with foreign elements against the establishment.
The debate "could reveal who has set the revolution on the wrong path, and who and which groups are responsible for the cruelty against the people," the former Parliament speaker said, calling for government compensation for mistreating protesters.
He said he believes in religious jurisprudence and he is only after the revival of freedom. According to the defeated candidate, only reforms and non-violent campaigns can bring the train of the Islamic Revolution back onto the right track.
/Press TV/