Iran's President expresses hope that Pakistan will stand up to foreign interference in its domestic affairs, saying closer cooperation among regional states can guarantee stability in the region.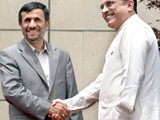 In a telephone conversation with his Pakistani counterpart Asif Ali Zardari, President Mahmoud Ahmadinejad said violence inside Pakistan affects all neighboring countries because their security is intertwined.
Ahmadinejad also expressed hope that the Pakistani nation will stand up to foreign interference in their domestic affairs and return peace, stability and unity to their country.
"All countries in the region are deeply saddened by the torrent of bomb blasts, which usually claim the lives of innocent civilians," said the Iranian President, adding that foreign powers are seeking to foment unrest in the region with their divisive policies.
In December 2009, Pakistani security forces arrested three US citizens, including a woman, working at the American Consulate for filming sensitive installations in the eastern city of Lahore.
Police have impounded their vehicle for legal action as it was bearing false license plates.
The Pakistani daily The Nation reported that after a thorough search of the woman, the security personnel recovered 11 pictures in her possession, which included photos of different police check-posts in the area.
She was arrested while actually taking pictures of a check-post near the Sherpao Bridge.
Military check-posts have frequently been targets of bomb attacks.
/Press TV/