On Dec. 28, 2009 an attempt to slip across the border was registered on Armenian-Azerbaijani contact line, Armenian Defense Ministry said.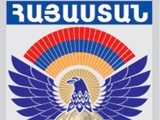 An Azerbaijani citizen Eldar Heydar ogli Taghiyev, 47, was arrested while attempting to slip over the border near Tavush Marz area of Armenia.
International organizations were informed of the incident.
Criminal proceedings were instituted.
/News.am/