Iran and Turkey plan to set up a joint industrial zone on their shared border, a Turkish official has announced.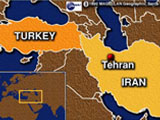 Turkish Industry and Trade Minister Nihat Ergun made the remarks after a meeting with Iran's Industry Minister Ali Akbar Mehrabian in Ankara on Friday.
Ergun noted that the two sides have agreed to form a committee to discuss the establishment of the joint industrial area in a way to boost economic cooperation.
''A technical committee consisting of 10 persons from each side has been established. The committee will work on the establishment of an industrial zone on the joint border, '' ILNA news agency quoted Erdun as saying.
The Iranian and Turkish officials also discussed ways of increasing industrial cooperation.
Separately, Turkish State Minister Zafer Caglayan said that Turkey's exports to Iran reached $1.7 billion in the first 11 months of 2009.
After a meeting with Mehrabian in Ankara on Thursday, Caglayan said Tehran is an important partner for Turkey and that the volume of trade between the two countries has risen to $10 billion in the past eight years.
/Press TV/