Turkey will take the UN Security Council Presidency in September, 2010.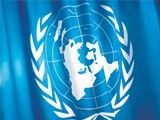 Turkey's priorities for the 64th session of the UN General Assembly are effective conflict prevention, peacekeeping and peace-building, Cyprus, humanitarian assistance, combating terrorism, combating illegal migration and drug trafficking, environmental issues and climate change, human rights, gender issues and UN reform.
Turkey is committed to make UN Security Council more democratic and equitable composition that corresponds to contemporary international realities. In order to reinforce the credibility of the General Assembly, and thus the United Nations, there needs to be a permanent and effective follow-up mechanism for the implementation of its resolutions.
Securing and maintaining peace is still the most demanding and difficult task for the international community. Post-conflict peace-building is also an area of vital importance for the UN and there is ample room for improving the UN's response to post-conflict situations.
Turkey is a non-permanent member of the UN Security Council now.
/
APA
/