Armenia is dissatisfied with Georgian President Mikheil Saakashvili's stance on Nagorno-Karabakh conflict.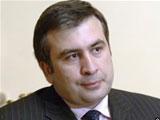 "Let Saakashvili mind his own country's territorial problems and not meddle in others' conflicts," Armenian National Assembly (parliament) member Shirak Torosyan said.
He was commenting on Georgian President's statement that Karabakh conflict should be settled with respect for Azerbaijani state sovereignty and Armenia-Turkey relations' should be coordinated with Azerbaijan.
"As for the statement that Armenia-Turkey normalization process should consider Baku's interests, Tbilisi is not interested in establishing of relations between the two countries and consequently, Armenia-Turkey border opening, as in that case Georgia will lose transit control over Armenia," Torosyan said.
/News.am/