A recent thaw in Turkish-Syrian relations is not a sign of a policy shift but simply normalization, the visiting Turkish prime minister said Wednesday in the Syrian capital of Damascus.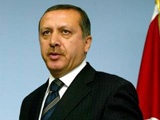 Speaking at the Turkish-Syrian Business Council, Turkish Prime Minister Recep Tayyip Erdoğan slammed criticism that his country has been drifting away from the West by improving its relations with its Middle Eastern neighbors.
"I find all the comments to have bad intentions. They stem from ignorance," said Erdoğan, adding that the Turkish-Syrian rapprochement does not mean a change in foreign-policy orientation but simply normalization in foreign policy.
"We got rid of prejudices in our relations with Syria. Relations are coming to the point where they should be. We are building the relationship that should exist between brothers," Erdoğan said.
"That trade relations increase between our two countries, that we show more solidarity among our two countries – is it a change of orientation or normalization?"
Whether Turkey increases its welfare does not mean anything on its own, said Erdoğan, adding that such a change can only be meaningful if the whole region prospers.
"We cannot remain indifferent to Syria's problems and Syria cannot remain indifferent to its neighboring countries," the Turkish prime minister said.
/Huriyyet Daily News/