Eurasia Cooperation Fund and Center for Global Political Tendencies organized a meeting of Turkish and Armenian journalists in Yerevan on Dec. 17.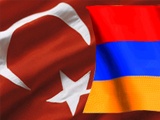 The event is financed by Norwegian government and USAID.
The event will last till Dec. 20.
Representatives of CNN Turk, NTV TV channels, the Milliyyet, Sabah, Hurriyyet, Cumhuriyyet and Aksam newspapers attended the meeting.
The first meeting was held in Bursa on Oct. 13-14.
Normalization of Armenia-Turkey relations, positive influence of the mass media on the process were discussed at the meeting.
/
APA
/