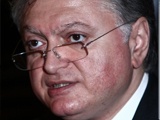 Armenian Foreign Minister Edward Nalbandyan participated in the Ministerial Conference of International Organization of the Francophonie on Dec. 15.
Seventy member states, as well as delegations from associated and observer countries took part in the conference held within the framework of the 40th anniversary of the organization.
Nalbandyan delivered a speech at the conference presenting Armenia's steps for the implementation of organization objectives.
Nalbandyan had meetings with Head of the Swiss Federal Department of Foreign Affairs Micheline Anne-Marie Calmy-Rey, Moroccan Foreign Minister Fassi Fhiri, Cambodian Foreign Minister Hor Namhongand and diplomatic adviser to French President Jean-David Levitte.
/News.am/