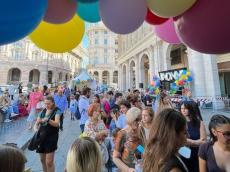 Italy on Monday was celebrating National Grandparents Day, Azernews reports, citing ANSA.
Premier Giorgia Meloni took part, posting a photo of herself with her grandmother Maria and her sister Arianna.
She hailed grandparents as "living treasures, custodians of traditions, models of wisdom and affection".
Farmers' association Coldiretti, meanwhile, said over one in three families in Italy rely on grandparents for financial assistance and/or for help with child care or other forms of practical assistance.